I have been trying to find the big box grocery store playlist for some time now. My local Safeway plays a lot of Avril Lavigne and Hanson and Tracy Chapman, making me think the store plays the Adult Contemporary (or somewhat contemporary) station offered by In-Store Broadcasting. The music is always either catchy or totally annoying. Guess what? That is just how they want it!
Just like casinos, grocery stores play music to get you in certain moods. Faster, annoying songs that make you want to get outta Dodge, may just cause you to grab and go. The faster you grab, the more likely you are to snatch up impulse items or take Safeway's word on what a good deal is. (Hint: Just because a yellow tag says cereal is 2/$6.00, does not a good deal make!)
So,  Safeway (when I say Safeway, just insert your local big box store if it applies)
…can be your best friend and your worst enemy when it comes to prices. It is what is called a high and low store. If you are the type of person (most of us are) that shops around dinner time, Sunday evenings, when you are hungry or without a grocery list, be prepared to get ripped off. Safeway is smarter than you, just accept. There are no accidents in the way Safeway is set up.
Check out Balancing Everything's coupon page to read how to be a shopper that grocery store owners love.
Here's how Safeway works:
In the grocery world, there is a yearly schedule of sales. A sale cycle, if you will. (I will paste it at the bottom of this post.) So for example, in January, you can expect to find the best deals on:
Quaker Oatmeal (For National Oatmeal Month)
Diet Foods (New Year's Resolutions)
Superbowl Foods & Chilis
February deals:
Canned Food (National Canned Food Month)
Chinese Food (Chinese New Years)
Breakfast Foods (National Hot Breakfast Foods Month)
March:
April
Easter/Passover Foods like Ham, Food Coloring
May
Ok, you get the point.
Take an ice cream example. In March, frozen foods are on sale in a serious way. You can find coupons up the wazoo for all things frozen. Ice cream should be easy to find for $2.  I really want to say $2 for a half-gallon, but ice cream cartons are now down to 1.5 quarts. Bring back the big ice cream!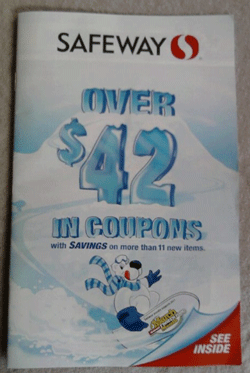 This was the coupon book that came out late February. You would have found it at the customer service counter, in the frozen food aisle and would have been reminded to pick one up by the friendly overhead announcer.
Tonight I could find ice cream for NO CHEAPER than $5.99 for the same size as was sold in March at $2 or $3 without a coupon. It's all about timing. Foods tend to go on sale every 12 weeks. So, I won't have to wait until March for ice cream (though my jeans say, I should!)
This is why you'll save the most money if you stock up while the gettin' is good. Don't run with that statement, please. Don't hoard. Don't extreme coupon your home full of junk food.
I'll leave the stockpiling topic for another post. However, I will mention that some things are worth stocking way up on. Laundry detergent, toothpaste, deodorant, soap and anything you know you will use and doesn't expire too quickly.
New Products
New products at your big store can be great buys. Usually, new products will have coupons available in the Sunday paper. Lots of us will think we are getting a great deal and will use our coupon to save, say .55 cents on this new product. Ok, so the manufacturer now has a little profit to show. Once we've all used our coupons and the item is no longer on sale, the manufacturer has to worry if his profits will go south. To prevent this, new products go on sale again about three or four weeks after the coupon hit the paper.
Guess who nabs the goodies now? Smart couponers. This is the time when you can find new products for at the very least, 50% off from its regular price. This helps the manufacturer to show sales continuing to increase. It is a win-win. Only to those who play the game though.
You know who else lurves new products? Kids. Especially all that crap yogurt with candy and cookies and anything else that can be squeezed out of one of those Gogurt test tubes.
I'm guessing you've had enough tips, I could go on and on. I'm fascinated by the grocery store! You know what fascinated me about Safeway tonight? The man at the self checkout, who clearly has no business checking himself out. He was slow, he left his dirty napkins next to the catalina (coupon) machine and he was just all thrown for a loop. He put the energy into pulling the catalinas out of the machine, but left them on the counter with his dirty napkins. Across from the man was a couple (a midlife couple) in their pajamas, buying a LOT of booze. Go fig. Everyone's gotta grocery shop! I should just feel lucky I don't have to do it all at Walmart. We've all seen those photos. Eek.
Typical Sales Cycle from Living Richly on a Budget
January
National Oatmeal Month: Quaker
Diet Foods: Healthy Choice, South Beach, Lean Cuisine, Special K, Kashi, Smart Start, 100 Calorie Packs, Yogurt
Super Bowl Sunday: Pepsi, Coke, Chips, Dips, Cheese, Sandwich Items, Crackers, Snacks, Wings
Seasonal Produce: Oranges, Pears, Grapefruit, Tangerines, Broccoli, Carrots, Cauliflower, Celery, Chard, Collards, Kale, Kiwi, Avocado, Cabbage, Spinach
Clearance: Christmas Decorations, Toys, Wrapping Papers,
Winter Health: Cold Medicines and Vitamins
February
National Canned Food Month: Canned Fruit, Pie Fillings, Vegetables, Meats: Tuna, Chicken, Salmon
National Hot Breakfast Month: Malt O Meal, Oatmeal, Eggo Waffles, Syrup
Valentines: Chocolate, Hershey's, KY Lubricant, etc
Chinese New Year: Soy Sauce, Teriyaki Sauce, Noodles, Canned Water Chestnuts
Seasonal Produce: Artichoke, Asparagus, Raspberries, Potatoes, Strawberries, Broccoli, Carrots, Cauliflower, Celery, Chard, Collards, Kale, Kiwi, Avocado, Spinach
March
Frozen Food Month: Ice Cream, Frozen Vegetables (Boxed, Bag, or Steam), Frozen Meals, Foster Farms Chicken, Waffles, Pizza
Seasonal Produce: Artichoke, Asparagus, Haas Avocado, Broccoli, Cabbage, Carrots, Cauliflower, Celery, Chard, Collards, Fennel, Kale, Leek, Lemon, Lime, Mushrooms, Spring Onions, Orange, Peas, Radish, Rhubarb, Spinach, Strawberries, Tangerine
April
Easter: Ham, Eggs, Spices, Baking Supplies: Sugar, Spices, Baking Mixes, Chocolate Chips, Butter, Coconut, Marshmallows, Brownie Mix, Cake Mix
Earth Day: Organic Foods, Energy Saver, Reusable Totes
Seasonal Produce: Artichokes, Asparagus, Beets, Broccoli, Cabbages, Carrots, Grapefruit, Haas Avocado, Mushrooms, Onions, Peas, Rhubarb
Clearance: After Easter sales
May
Memorial Day: BBQ Sauce, Condiments, Charcoal, Salad Dressing, Potato Chips, Dips, Grilling Meats, Hot Dogs, Hamburger Meat, Marinade, Salad Greens
Paper Products: Plates, Utensils, Insect Repellant, Sunscreen
Cinco De Mayo: Salsa, tortillas
Seasonal Produce: Artichokes, Asparagus, Avocado, Beans, Green, Beets, Blackberries, Carrots, Sweet Vidalia Onions, Peas, New Potatoes, Raspberries, Strawberries
June
National Dairy Month: Eggs, Milk, Ice Cream, Cheese, Cream Cheese, Butter, Yogurt, Whipping Cream, Whipped Cream, Cool Whip
End of June is Fourth or July Sales: Hot Dogs, Hamburgers, BBQ Sauce, Ketchup, Condiments, Charcoal, Salad Dressing, Potato Chips, Dips
Seasonal Produce: Apricots, Blackberries, Blueberries, Boysenberries, Cherries, Corn, Cucumber, Eggplant, Grapes, Honeydew, Nectarines, Peaches, Potatoes, Raspberries, Red Onions, Squash, Summer, Strawberries, Sweet Vidalia Onions, Tomatoes, Watermelon
July
National Ice Cream Month
More 4th of July BBQ Sales: Hot Dogs, Hamburgers, BBQ Sauce, Ketchup, Condiments, Charcoal, Salad Dressing, Potato Chips, Dips
End of July: Back to School Sales Begin: Crayons, Pencils, Folders, Binders
Seasonal Produce: Asian Pears, Bartlett Pears, Beans, Green, Blueberries, Corn, Cucumber, Eggplant, Figs, Garlic, Grapes, Nectarines, Onions, Red, Valencia Oranges, Peaches, Sweet/Bell Peppers, Plums, Potatoes, Summer Squash, Tomatoes, Watermelon
August
Back to School: Pudding cups, Lunch meat, Lunchables, Bread, Cold Cereal, Waffles, Lunchboxes
Disinfectant: Clorox, Purell
Clearance: Insect Repellant, Sunscreen, charcoal
Seasonal Produce: Gravenstein Apple, Haas Avocado, Green Beans, Beans, Berries, Corn, Cucumber, Eggplant, Figs, Grapes, Melons, Onion, Peaches, Bartlett Pears, Bell Pepper, Plums, Raspberries, Squash, Summer, Tomatillo, Tomato
September
Back to School Sales through Labor Day: Crayons, Pencils, Folders, Binders
Diabetes: Bayer Glucose Meters, Glucerna Cereal
Seasonal Produce: Apples, Artichokes, Beans, Bell Peppers, Chili Peppers, Cucumber, Eggplant, Grapes, Onion, Valencia Orange, Asian Pears, Bartlett Pears, Pomegranate, Squash, Tomatillo, Tomatoes, Winter Squash
Baby Items: Major Baby Equipment, Baby Safety
October
Halloween: Candy, Fresh Pumpkin
Beginning of the Baking Sales: Canned pumpkin, Evaporated Milk, Baking Chips
Daylight Savings Time Ends Promotions: Alarm Clocks, Batteries, Safety Equipment, Smoke Detectors
National Seafood Month
Adopt a Shelter-Dog Month: Pedigree, Purina
Seasonal Produce: Almonds, Apples, Artichokes, Arugula, Beets, Broccoli, Brussels Sprouts, Cabbages, Chard, Chestnuts, Cranberries, Lemons, Parsnip, Pears, Pomegranate, Potatoes, Sweet Potatoes, Pumpkin, Spinach, Squash, Winter, Turnips, Yams
November
Hot Cocoa, Coffee, Tea
Baking Sales in Full Swing: Nuts, Chocolate Chips, Evaporated Milk, Sweetened Condensed Milk, Coconut, Cake Mixes
Canned foods: Soup, Broth, Vegetables, Fruits, Spaghetti Sauce
Thanksgiving Items: Turkey, Canned Pumpkin, Stovetop Stuffing, Betty Crocker Boxed Potatoes, Gravy Mixes, Frozen Pies, Cranberry Sauce, Jello, Marshmallows
Seasonal Produce: Anjou Pears, Beets, Broccoli, Brussels Sprouts, Cabbages, Carrots, Celery, Comice Pears, Cranberries, Kiwi, Lemons, Orange, Potato, Squash, Yams
Clearance: After Halloween Sales
December
Holiday Dinner: Egg Nog, Deli Platters, Instant Potatoes, Gravy Mixes, Frozen Pies, Cranberry Sauce, Jello, Marshmallows. Sour Cream Dips, Crackers, Chips, Soda, Ham
Baking: Flour, Sugar, Butter, Cream, Cake Mix, Brownie Mix, Muffin Mix, Breads, Pie Crust, Marshmallow, Whipped cream
Canned Foods: Soup, Broth, Condensed Milk, Vegetables, Fruits, Spaghetti Sauce
Seasonal Produce: Anjou Pears, Bok Choy, Bosc Pears, Broccoli, Brussels Sprouts, Carrots, Cauliflower, Celery, Dates, Grapefruit, Haas Avocados, Kale, Kiwi, Kumquat, Lemon, Napa Cabbage, Oranges, Sweet Potatoes, Red Cabbage, Rutabaga, Savoy Cabbage, Spinach, Winter Squash, Yams, Turnips, White Potato
Clearance: After Thanksgiving and After Christmas Sales